Faces from the Land: A Photographic Journey through Native America

, has been exhibited in numerous museums. Curators and educators have expressed the following comments.
---
"The photographs are deep, rich, and compelling, and the stories told by the subjects varied and personal. In my view, it's a very textural show, that is, with many layers of meaning visible in the photographs and also in the stories. Our visitors, Indian and non-Indian alike, have viewed the show with respect and interest. It succeeds as an art show, of course, but it also teaches important lessons about Native people in today's world."
Redmond J. Barnett
Head of Exhibits
Washington State Historical Society
Tacoma, WA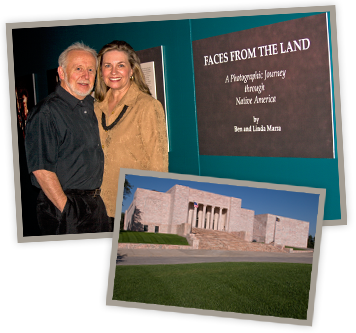 "The exhibit is a contemporary portal into the museum's classical collection. It provides an interesting complement to Joslyn's renowned collection of Karl Bodmer drawings and paintings of American Indians rendered during his travels in the West in the 1830s. Both artists let the regalia come alive and become a reflection of the person and their heritage.
A lot of people think of the American Indian as long ago and far away. They do have a significant place in our history, but this exhibit reminds us that they are here with us in our cities today."
Anne El-Omami
Director of Education, Academic Affairs, and Public Programs
Joslyn Art Museum
Omaha, NE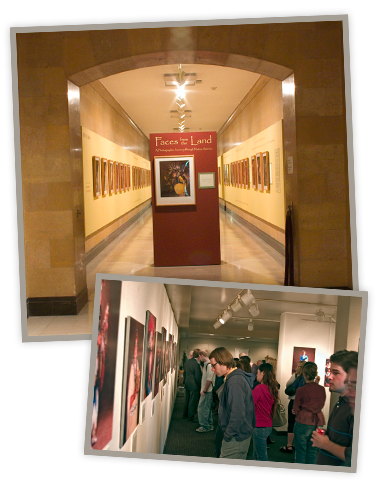 "For most of our visitors, Ben's photographs were their first introduction to contemporary Native American culture and the tradition of the Powwow. The photographs are truly stunning and show exquisite details of the participants' colorful, intricate regalia. Not only are the portraits aesthetically beautiful, but they bring to life for visitors the vibrant spiritual traditions of Native American Nations and show how these meetings remain an integral part of their culture.
Our visitors also enjoyed reading the captions that accompany the photographs, as they really give voice to the subjects and serve as a wonderful complement to the images.
From an educational point of view, the exhibition was especially popular for school groups. Our docents were able to show groups our historical Native American collection alongside the contemporary photographs, thus contextualizing the historical material and demonstrating to students that native populations still thrive today."
Laura Fiser
Curatorial Projects Manager (former)
Speed Art Museum
Louisville, KY

---
"Your work is magnificent, and of all the visual splendor that we have enjoyed throughout the years we have received the most positive response from your current exhibit."
Ernest H. Brooks, II
Former President
Brooks Institute of Photography
Santa Barbara, CA