Ben Marra, a master portrait photographer, was born and raised in Wallace, Idaho, and earned a bachelor's degree in liberal arts at the University of Idaho. He found his calling when he purchased a 35 mm camera while serving in Southeast Asia during the Vietnam War.
Following his military service, Ben graduated from Brooks Institute of Photography in Santa Barbara, California. After graduation, Ben returned to the Northwest and landed a position with the largest commercial photography studio in Seattle, photographing images for catalogues, advertisements, and annual reports for many large Northwest corporations. A short time later, Ben started his own Seattle-based commercial photography business.
In addition to his corporate work, Ben and his wife Linda have been compiling a significant portfolio of contemporary American Indian photographs since 1988. What began as a photographic assignment to photograph a Seattle powwow became something much more.
Ben, who has no American Indian ancestry, hadn't been to a powwow and didn't fully understand its significance. The visual impact of the dancers and regalia wowed him and proved perfect for a photographer. But the people were even more impressive. The dancers' pride—and the respect they paid to their heritage—moved him. He has been committed to photographing powwows ever since.
Ben's images have been featured in numerous museums and national magazines including PhotoPro, Dance Magazine, and Alaska Airlines Magazine. His Plateau tribes photographs were included in the Handbook of North American Indians, published by the Smithsonian Institution. In 1997, Ben received an honorary Master's degree from Brooks Institute for his extensive portfolio of Native American photographs.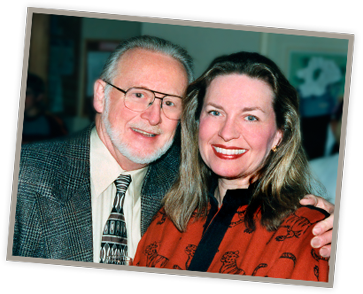 Linda Marra
was born in Oklahoma, raised in Kansas and Texas, and studied communications and theater at Southwest Missouri State University. She learned at an early age to solve problems, become resilient, think on her feet, and focus on possibilities.
With an appreciation for the arts and background in marketing and artist development, Linda is the producer and documentarian for Images along the Red Road. After meeting dancers at the first powwow she and Ben attended in 1988, Linda was struck with the importance of conveying the power of this expression of Native Americans' cultural heritage. Ben's awe-inspiring photographs are complemented by personal narratives carefully gathered by Linda.
Since 1996, Linda has also produced two yearly international calendars, an award-wining book, POWWOW: Images along the Red Road (Abrams), and numerous published works. In 2003, the Marras' exhibition, Faces from the Land: A Photographic Journey through Native America premiered at the Speed Art Museum, Louisville, KY, for a seven-month engagement to commemorate the bicentennial of the Lewis and Clark Expedition. Faces from the Land has continued traveling to museums across the country, and a new hardcover book by the same name is now available.
Ben and Linda Marra are available to speak about their ongoing American Indian documentary project.