POWWOW: Portraits of Native Americans
Enter into the inner circle of the powwow—gatherings of native peoples that showcase traditional dance, drumming, singing, and regalia. Through Seattle photographer Ben Marra's sensitive portraits of Native Americans, we see beyond the colorful exterior. Each dancer's captivating gaze, stance, and dress convey a sense of both individuality and ancestral pride. The accompanying personal statements tell us even more—the history and purpose of the regalia and ceremonies, and why it is so important to preserve tribal traditions for generations to come.
Sample calendar page:
January
Amber Buffalo
Cree
"Tansi. My name is Amber Buffalo. I'm Plains Cree from the Samson Cree Nation of Hobbema, Alberta, Canada. My Indian name is Mikwan Awasis, which means "Feather Child." This name was given to me by Joe Roan of Pigeon Lake, Alberta.
My parents are Sharon Buffalo and the late Jimmy Smallboy. My stepfather is Tim White Eyes (Oglala Sioux) of Pine Ridge, South Dakota, and Macy, Nebraska.
I dance women's Northern Traditional and have been dancing since the age of two. In 1985, I was initiated by Darryl Goodwill and Irene Oaks. I am very fortunate and thankful that I was raised in the powwow circle and way of life. I thank the Creator every day for blessing me with my culture and everything else in my life. I am very proud and honored of who I am as a First Nations person, and I have every intention of carrying it on and sharing it with whomever I can, as long as I live. Hai Hai."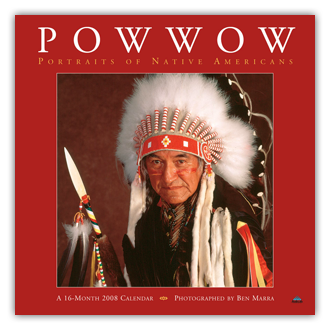 Size: 12" x 12"
Item #7001070
$12.99
The following individuals are featured:
Stephen Small Salmon
Pend d'Oreille Flathead
Amber Buffalo
Cree
Kelly Walker
Arikara / Comanche / Delaware
Norton Becenti, Jr.
Diné
Clarissa Cawston
Colville
Sydney John
Umatilla / Yakama
Lauren Frank
Arikara / Blackfeet / Cree
Ernestine Gopher
Ojibwe
Mark Stanger
Arrow Lakes and Okanogan Bands of Colville / Coeur d'Alene
Liberty Cree
Assiniboine / Cree
Edwina Morning Owl
Yakama / Crow
Iris Mullen, Leona Andrade, Vivian Ambro, and Jacelynn Bohlman
Coeur d'Alene